Mt Buller
Mt Buller is the perfect place for a summer or winter holiday.
In summer, enjoy bush walking, horse riding, tennis or relaxing in the clean, cool mountain air.
Winter brings great skiing at the ski resort with the most extensive lift system in Australia, offering trails to suit every level of skier.
Events
See this week's on-mountain events
Getting there
Driving to Mount Buller is easy; via Yarra Glen or Benalla, and on through Mansfield, it only takes about three hours on good sealed roads to reach the mountain from Melbourne.
Remember chains must be carried. Mt Buller's wheel chain requirements are decided on a daily basis and are determined by weather forecasts and existing road conditions. Chain requirements may vary between 2-Wheel Drive (2WD) and 4-Wheel Drive (4WD) and All-Wheel Drive (AWD) vehicles, as each of these types of cars react differently to snow and icy road conditions. For regular visitors with 4WD/AWD vehicles driving up to the village, you may want to consider investing in special snow tyres which can provide extra stablity and traction, but as always care should be taken when driving in hazardous conditions.
Other precautions include having anti-freeze in the radiator and topping up with 'Alpine Deisel' at Mansfield before heading up the mountain if you intent to stay for overnight or longer.
You pay an entry fee at the Mirimbah gate and then drive until you meet Parking Control. Park where instructed (do leave your car in gear, don't engage your handbrake, do lift your wipers off the windscreen).
Taxi Service
During the ski season a 4WD taxi will be available to take you to Timberline on The Avenue. Your bags will be loaded on the taxi roof rack. Put them in plastic bags if they are not waterproof and label them clearly with your name and Timberline's address and phone number.
Leaving the mountain
Before driving home, make sure you clear all snow from your car, including the bonnet and roof. You can be hit with a hefty fine and loss of demerit points for driving with snow on the roof of your vehicle.
Please drive safely.
Find out more
More information is available on the Mt Buller website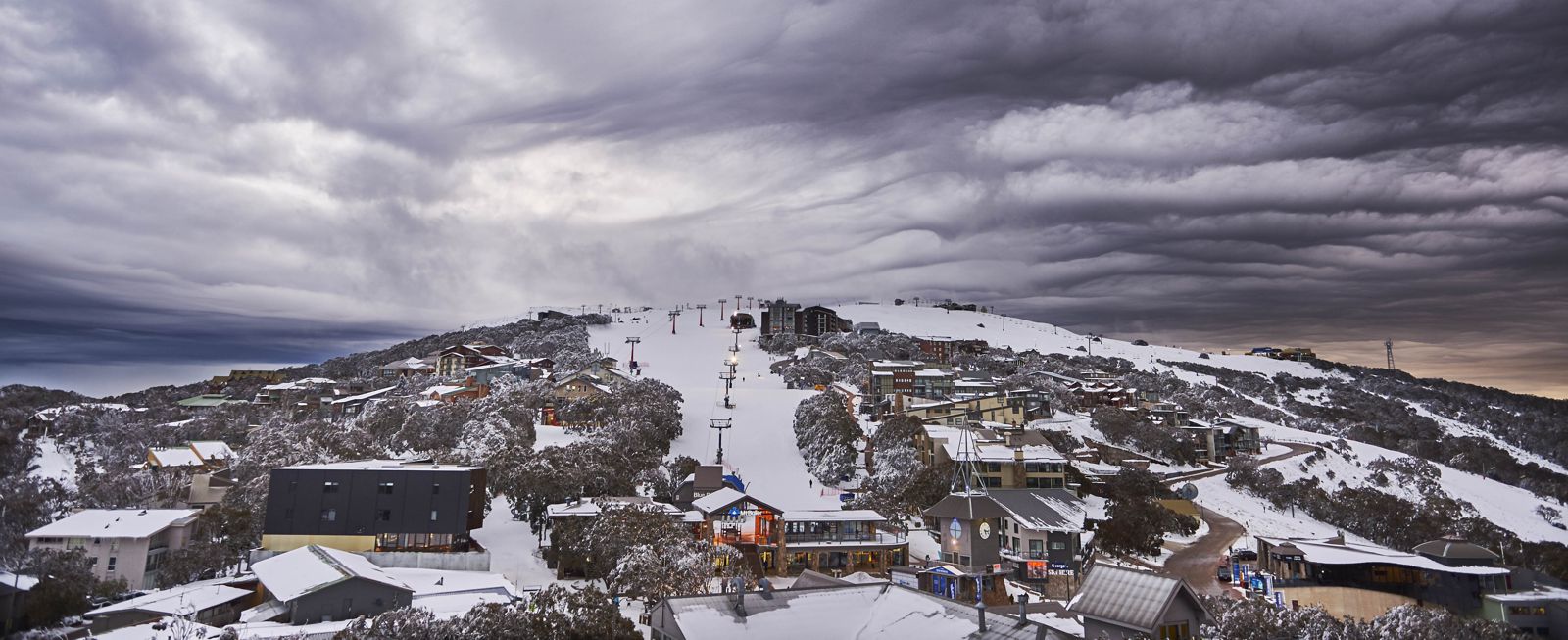 Stunning Sky - Mt Buller ski resort. © Photography by Andrew Railton